uptown branding direction chosen
We are happy to announce that after our year long process of workshops, surveys, and community meetings the Uptown Arts & Culture Coalition board voted in the December board meeting to adopt our districts branding direction created by one of our finalist student designers, Seattle Sims. Over the next few months Seattle Sims will work with Gabriel Stromberg, our design consultant, to create branding guidelines which will give us the tools to implement this mark around Uptown.
We would like to thank all the artists, community members, and local businesses who participate in this wonderfully in-depth process to unite our district and identify what we want the future to hold.
congratulations seattle sims
Hello, I'm Seattle Sims I'm a current design student at Cornish College of the Arts with a focus in motion graphics. With my design work, I like to create educational graphics about the ecosystem and the human body. When I'm not designing I like to tend to my plants, collect legos, and drive my Subaru Forester to some hiking trails.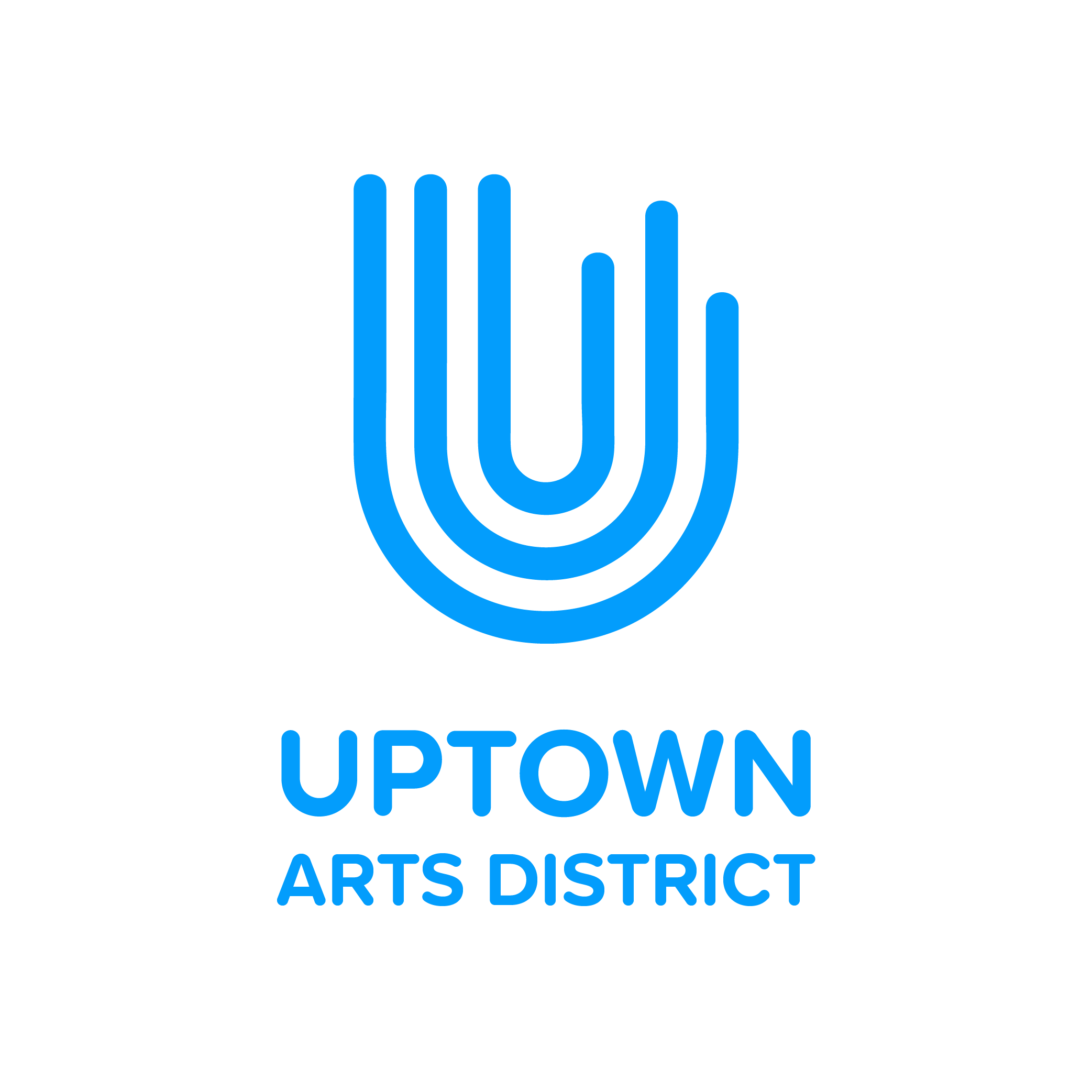 Uptown is vibrant, creative, and inclusive. This logo is inspired by a brush stroke and music tabs. Each line represents creativity, community, humanity and how all these elements work together in harmony. This logo is paired with a custom typeface fit for Uptown.
UACC IDENTITY & BRANDing PROJECT
Why Identity & Branding? Why Now?
In late 2017, having newly been designated an Arts & Culture District, the Uptown Arts & Culture Coalition considered projects for 2018 that would meaningfully forward its mission.

They appreciated that Uptown is on the precipice of enormous change that will take place over the next three, five, ten and twenty years. Beginning with the UpZone approval and the Uptown Arts & Culture District designation, followed by the Seattle Center Arena redevelopment and with a series of multi-year transportation upgrades on the horizon, Uptown will be a community undergoing tremendous transformation for the foreseeable future.
They stood for the power of a self-defined, communally held, transparent, authentic and consistently communicated identity/brand is not only to inform and galvanize a community but to also set a trajectory for the next 30 years.

The Identity & Branding Project was birthed with the goals to create community cohesiveness, integrate identity within the community, position Uptown as an Arts & Culture Center, be known - internationally - as Uptown.

The UACC sought out community partners (local business people and community arts organizations) to form a working group, sent out surveys and held focus groups to listen to Uptown.

The UACC also wanted to partner with emerging creative design talent and had the fortune to partner with the Cornish College of the Arts Design Department. The design team was formed with professional leadership by Gabriel Stromberg, Co-founder and Creative Director of the design firm Civilization, and five top-of-class design students who brought talent and a fresh perspective to our familiar Uptown.

Now down to three final concepts, the UACC is again asking for your input. Participate in the survey to recommend your favorite to the UACC Board who is making a final decision on December 19th, 2018.
process overview
From collected data and group discussions, generate concise aims and objectives.
Establish consensus between working team, designers, and the greater community.
Translate aims and objectives into key visual concepts.
Review initial ideas with working team.
Create multiple design solutions.
Review options with working team.
Once final direction is chosen, create a modular identity system.
many thanks to our Community Working Group
OUR DESIGN TEAM'S guru, mentor, teacher, guide
Gabriel Stromberg is a Seattle based designer, artist, and educator. He is the co-founder and creative director of the Seattle based design firm Civilization. The firm has earned numerous awards including a Webby for interactive design, 2 How Design awards for identity design, and the 2018 Cooper Hewitt Smithsonian design award for communication design.
Stromberg's work is included in the collections of SFMOMA, The Cooper Hewitt Museum, and the Henry Art Gallery. He currently teaches design history at Seattle Central Creative Academy.
Why were you attracted to this project?
When I first learned about the project, and that it was centered on creating an identity that would represent Seattle's Uptown neighborhood, I was immediately interested. I loved the idea of branding a neighborhood—a public space that has so much history and culture.
OUR three finalist student designers
MANY THANKS Cornish College of the Arts for your collaboration!
A Brief Interview with Gabriel Stromberg
What is your approach to design?
I listen. Ultimately design should be in service of meaning and intention. When I am working with a client in any field or sector, I am ultimately working to tell their story. I listen to discover those points of connection and respond accordingly. It's from them that I find the inspiration for the final design solutions that I create.
Why were you attracted to this project?
When I first learned about the project, and that it was centered on creating an identity that would represent Seattle's Uptown neighborhood, I was immediately interested. I loved the idea of branding a neighborhood—a public space that has so much history and culture.
What was your favorite part of this project?
My favorite part of the experience was working with the students. The workshops were very collaborative and everyone was extremely supportive of one another. We had multiple critiques over the course of the summer. It was fascinating to observe how students would respond to specific suggestions or points of criticism. Everyone's contributions were so different and unique. My approach was to really focus on the key characteristics of the neighborhood—the residents, culture, and community of the area—and let these elements guide the design process. The students took to this approach really easily and through it created really fantastic work.